---
Zkušenosti -Experiences
Routine in Nieuw Vennep.
The day starts at 7 a.m. I make myself up until 7.30. Then I wake up the boys. I dress them on, go through the bathroom and stop by the breakfast table. They are done until 8.15. I go to school. I take the trolley with the twins and Arcos with me. We´re just on time, it´s 8.30. I come back to house, let Max&Joey watch their favorite Teletobbies and do some dishes or washes. Then if the weather make sence, we take a walk in neigbourhood or go to local playground. The day flies and there comes lunch-break. I make some sanwiches and look after the boys. In the afternoon we take a dance lesson and have some fun. Someday if they are like to sleep I put them to bed for a while. At 2.30 p.m. it is time to pick up Steph from school. If there is no other after-school activities. I see what he has done during the day. I talked to him about it and do help with homework. We also take lesson of English. If the boys are like to stay together and play together I have time to do some ironing or prepare family-dinner. Later we stay in the garden or go cycling. At 5.30 p.m. Sonja comes and sometimes I go to language course.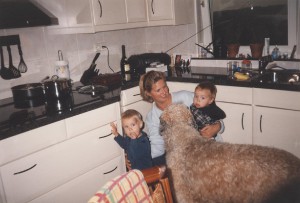 Den v práci
Probouzím se v 7 hodin a v půl osmé budím chlapce. Obléknu je, dohlédnu na ně v koupelně a posnídáme. V 8.15 hod. vycházíme s kočárkem pro dvojčata, Arkosem-psem a Stephem do školy. V 8.30 hod. jsme tam. Po návratu domů se děti dívají na svůj oblíbený seriál, já mezitím umyji nádobí. Když je pěkné počasí, vydáme se na procházku, krmit kačeny nebo jentak na hřiště. Den rychle utíká a k obědu připravím zdravé sendviče. Pokud jsou kluci ospalí, dají si šlofíka, jinak si pěkně zatancujeme a hrajeme nějakou hru. Ve 2.30 hod. jdeme pro Stepha. Pokud nemá jiné školní akce - soutěže nebo závody, probíráme spolu celý den ve škole a učíme se anglicky. Když se zabaví hrou nebo autama, dodělám domácí práce - praní, žehlení, vaření, uklízení - a když je hezky, jdeme na zahradu nebo jezdit na kole. O půl šesté se Sonja vrací z práce a já odcházím do jazykového kurzu.
Franta´s mother has health problems and often visits hospital. His father is often at work. My responsibility is to pick up Franta from nursery. Walk him home or to playground and take care of him until parents reach home. I walk him to zoo or swimming pool someday. I read from the books and assist when he learns to write letters.
Frantíkova mamka má zdravotní potíže a často musí do nemocnice. Jeho táta má hodně práce. Proto vyzvedávám Fanouška ze školky. Když byl přes den hodný, zastavíme se na hřišti a nebo dostane něco dobrého. Někdy jdeme na celý den do zoologické zahrady, na bazén nebo se psem na procházku do parku. Jindy mu čtu z knížek a dohlížím, když se učí psát písmena.
Tereza´s mum works in hospital. That´s why Tereza goes to Day-nursery. I pick her up and learn basic English words from books. I pronounce and write down the word. We paint it someway and next time repeat again. She likes skating too. Sometimes we go to local ice-hockey stadion. I spend 3 - 4 hours 3 times a week with her.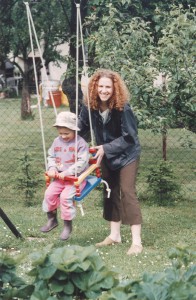 Jakub is son of my friend Monica. He is almost one and begins to stand up. He is more sleepy but when awake he is active. He needs to be watched all the time. I often visit her.
When I attended Higher vocational school social, I had practice in Pedagogy-psychological centre. Group of children regullary came to paint glass, make by hands ceramics, sing, read the newspaper, learn English. I assist them twice a week for three months. I looked after nine years old boy left by parents at his grandma. I led him home, helped with homeworks and explained what he couldn´t get at school. I tried to use effective way how to learn stuff. I assisted to teachers at Basic Christian school. I helped to children workout school-works. I partly organized sport games like throwing beads, skittle pins, skip over rope, team handball, badminton, football, sprints..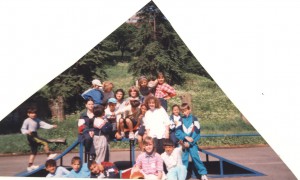 Když jsem chodila dobrovolně vypomáhat do Pedagogicko-psychologické poradny, přicházely sem děti různého věku, pohlaví a národnosti. Hráli jsme na hudební nástroje, zpívali, malovali na sklo, četli noviny a učili se angličtinu. V kolektivu vládla pozitivní nálada, často jsme se neradi loučili.